Cowboy, knight, spaceman, pirate; it's been 50 years since the mild-mannered businessman Mr Benn first popped into his local costume shop, ready for his next adventure. This week, we speak to besuited Benn's creator David McKee about escapism, the morality behind his tales and the enduring legacy of Benn's otherworldly exploits.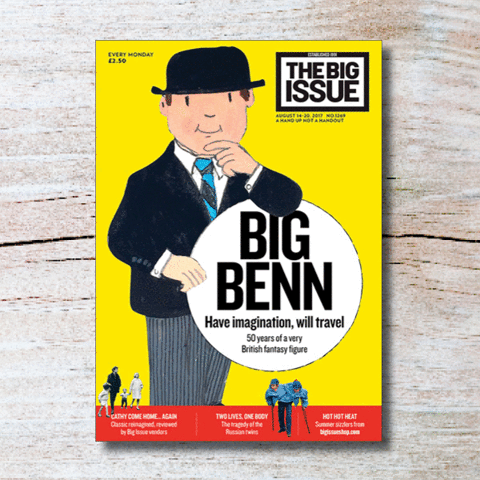 Also…
Two lives, one body. Journalist Juliet Butler tells the extraordinary tale of conjoined twins Dasha and Masha as they live through Stalin's Russia. Butler's book, The Less You Know the Sounder You Sleep follows Dasha, the empath to her sister Masha's fearless anger.
In Letter To My Younger Self, former governor of Hong Kong and cross-bench Lord Chris Patten, tells his 16-year-old self to learn another language: "it makes your life more fulfilled".
As the Edinburgh Festival rolls into full flow, we sent Big Issue vendors Danny and Miguel along to critic one o f the most notable events in the Edinburgh calendar: Cardboard Citizen's Cathy – a re-imagination of Ken Loach's seminal Cathy Come Home. "She was almost representing me and what I'd been through," they write.
And more.