Back to the Brightside! The Killers are back after five years in the wilderness. In a candid interview with writer Terri White, frontman Brandon Flowers leads this week's Big Issue Music Special to talk the art of the perfect frontman (spoiler: its Morrissey), the death (and resurrection) of rock'n'roll, rallying against Donald Trump, and why he keeps his beard shavings in a zip lock bag. Yes, really.
If you live outside the UK or can't reach a Big Issue vendor, this edition can be purchased online here.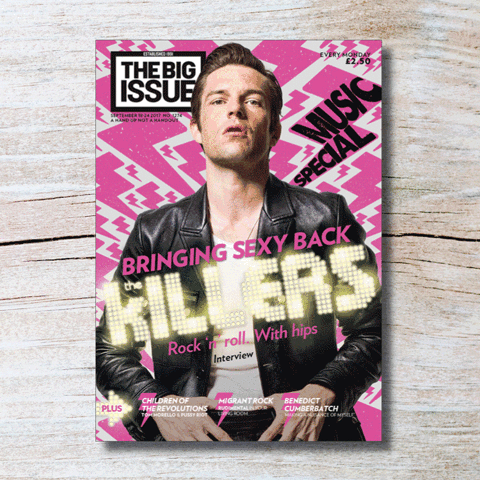 Also this week:
In another exclusive interview with The Big Issue, our friend Benedict Cumberbatch hangs up his Deerstalker and pipe to star in chilling drama The Child In Time, a new adaption of Ian McEwan's novel. He discusses his small screen return, and addresses the criticism he has faced in recent years for wading into debates on politics, housing and the refugee crisis. The Sherlock star, it's fair to say, doesn't hold back.
We have two no-nonsense, full-bloodied interviews with Rage Against the Machine icon Tom Morello and Masha Alyokhina, of the Russian collective Pussy Riot. Expect talk of rallying against Trump, Russia, and providing the soundtrack to a revolution.
In Letter to My Younger Self, we have celebrated writer and artist John Byrne. He says the teenage John should take his time when it comes to matters of the heart, and looks back at "battering buggery" out of classroom bullies. As ever, a fantastic read.
And, as always, much more.