Britain's lowest point of the Second World War came to define the country ever after. This week we travel back to the shores of France to find out how 'Dunkirk Spirit' lives on as Christopher Nolan's new film about the evacuation hits cinemas. We also join its stars including Fionn Whitehead, Kenneth Branagh and a hotly tipped newcomer named Harry Styles…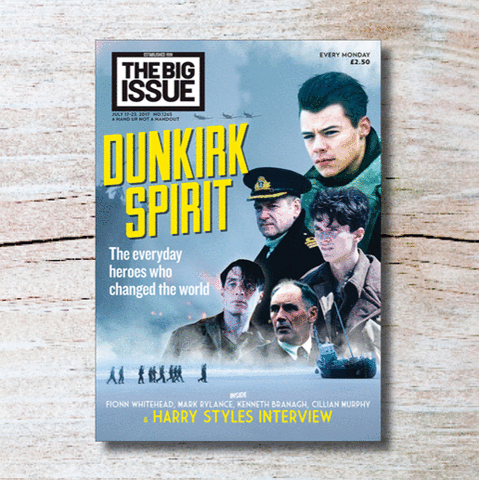 Also this week…
Kristian von Hornsleth's new art project puts homeless people up for sale, turning them into real-life Pokémon Go characters. Unsurprisingly, this has proved controversial – but, Hornsleth tells The Big Issue, that's the point. Now he has your attention, he wants you to think about what is more shocking – his project or the fact that people are homeless in 21st century Britain.
In disaster film The Day After Tomorrow the Larsen B ice shelf broke off and precipitated a new Ice Age. Does the calving of Larsen C for real last week mean this might actually happen?
In Letter To My Younger Self, theatre director Sir Trevor Nunn remembers growing up "in a little Ipswich working class street", studying alongside Ian McKellen and John Cleese and the influence of Peter Hall, founder of the Royal Shakespeare Company.