The Big Issue is delighted to reveal that this week's edition of the magazine is an art special, guest edited by Charming Baker, one of Britain's most celebrated contemporary artists. Built on a theme of Tipping Point, the special edition of the magazine features an array of British visual art heavyweights, all contributing unique and bespoke work.
The theme itself comes from Charming Baker. There are, he said, key decisive moments that lives can hinge on, moments that can tip things up or down. Big Issue vendors know more keenly than most how delicate the balance can be, and how quickly that tipping point can have negative – or down the road, positive – effects.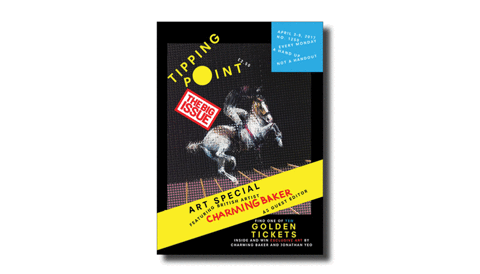 In honour of the art special edition, Baker has reached out to the art world and asked individuals to delve into their work archives and pick a piece of art representing a Tipping Point. The result is a veritable who's who of Brit Art and fashion. It includes Jonathan Yeo, Sir Peter Blake, Rachel Howard, Hugo Wilson, Antony Micallef, Mat Collishaw, Keith Tyson, Sue Webster & Tim Noble, David Shrigley and Sir Paul Smith, while Cornelia Parker shares her Letter to my Younger Self.
It's testament to The Big Issue's value in British society that these, and many others, signed up straight away to get involved.
Charming Baker commented: "I felt truly honoured to be asked to guest edit this special art edition. Crucial times for us are just as much about when we're tipped into success, as when we're tipped out. Small differences ultimately make the one big difference. And for me that's what the Big Issue is about."