Exciting news for fans of The Specials. Not content having the band grace our cover this week, we are also offering readers an exclusive video in which we take the band on a magical history tour of locations from the video to their 1981 No.1 single, Ghost Town.
How can readers access this exclusive additional content – in which Terry Hall, Lynval Golding and Horace Panter revisit the passion, politics and pop video of the classic single, and talk about Encore, their first new album in 38 years? Simply by downloading the genARate app to a mobile phone, scanning pages of The Big Issue, and watching the magic happen. Hey presto, print and digital media in perfect harmony.
In the three-minute video, a clip of which is shown above, Hall explains why he was so keen to talk to The Big Issue.
"I get upset by the scale of homelessness. That is why I am sitting here today," he says. "And I just can't put two and two together when I see so much money going into buildings that are so unused. It is painfully sad."
Everybody thinks that Ghost Town was written about their city
Panter, meanwhile, reflects on Ghost Town's ascent up the charts while the country descended into violence.
"Everybody thinks that Ghost Town was written about their city," says the bass player. "If you are from Coventry, you assume it was about Coventry. Actually, it applied to the majority of the country. We were on tour in 1980 and could see this urban decay was happening.
"To me the scariest thing ever was to sit in my little first floor flat in Coventry and watch riots on the television and have this song, which was No.1 in the charts playing in the background. It was very, very spooky. That is my memory of Ghost Town."
While in summer 1981, The Specials visited the tidal mudbanks and beach at St Katherine's Docks at 5am to throw stones into the river at the end of an all-night video shoot, we went there as the sun went down following our interview.
Readers can look at a gallery of shots from Mathew Parri Thomas's exclusive shoot for The Big Issue, at Omeara music venue in London, in a classic black cab driving through the City, and on the banks of the Thames.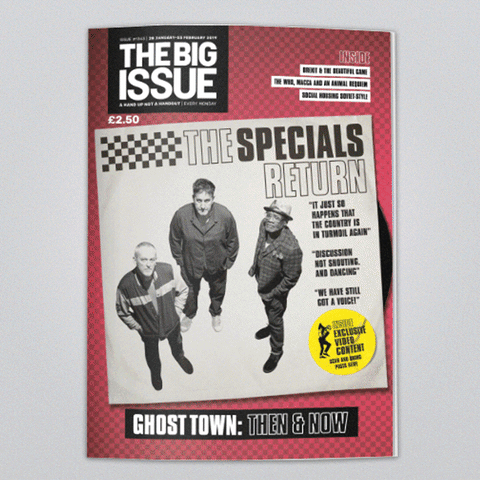 The Specials video and online gallery is the latest groundbreaking Augmented Reality content for readers of The Big Issue, following the UK's first Augmented Reality Special Edition on 7 January 2019.
Look out for more Augmented Reality additional content coming soon as we continue to add audio and video to our award winning print magazine, showing how readers can continue to get the best of all worlds. A physical, tactile magazine full of great writing, photography and design, plus the latest in audio and video content…
To download the GenARate app on the Apple App Store, go here
If you're using Android, you can get the app here
Buy our The Specials special here…
Main image: Mathew Parri Thomas