"It's a worrying time on so many levels and in so many areas of society, isn't it?"
David Tennant is one of the finest actors of his generation. But the 49-year-old, whose career went stratospheric with Doctor Who, is also smart, engaged and very happy to talk politics. 
We are speaking via Zoom. Tennant has spent much of lockdown perfecting his videocall manner – no fiddling with his laptop or technological mishaps for him. 
Tennant's (how to describe it… short, scripted, heightened-reality comedy drama series?) Staged, made with Michael Sheen and co-produced and co-starring his wife Georgia, is perhaps the best made-under-lockdown-and-about-lockdown TV. 
"We're all learning how to live through our computer screens aren't we?" says Tennant, who is who is unfazed by technological advances. He can fly a TARDIS, after all. "Making a whole TV show, well most of it, this way, from this room was not something I could have predicted, even in early April.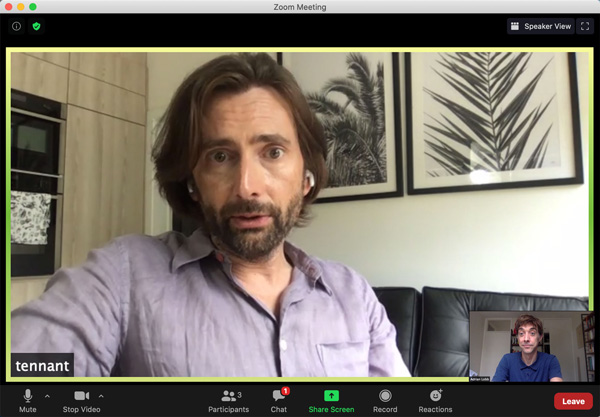 Tennant chats in a contemporary fashion with our Adrian
"I'm not in an industry that knows what to do when it can't be in busy rooms. It's hard to make TV shows socially distanced. It's impossible to go to the theatre. So I feel blessed to have been able to work at all. But I'm alarmed that our industry, which is one of the industries our country's still good at, is struggling. And a lot of my colleagues will be struggling. Most actors don't make a lot of money."