TIPPING POINT
The theme of this Art Special is Tipping Point; the idea that at decisive moments in life, a small event can have a huge influence, positively or negatively, and that we're all just a moment away from something that might change us and our lives forever. Each artist in this edition has submitted an image on the theme. Either very personal or from a much wider point of view, all the images represent a tipping point that is in some way important to them. I'm certain we all have our own.
REVOLUTION
I've always been interested in how we can look at most anything in a different way. I guess I play Devil's advocate to some degree, switching things around for the sake of it, pulling things apart to see how robust (or fragile) something is.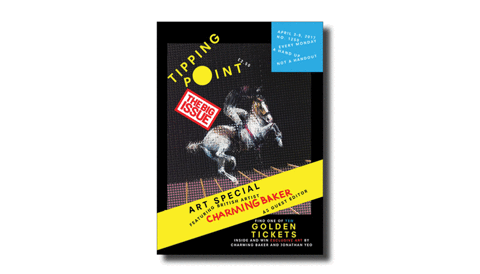 The idea for my image, Man Falls, came from a painting by Jacques-Louis David of Napoleon Crossing the Alps. I've always struggled with this painting (there are actually five versions). I read it as a pompous view of a heroic leader who was very much on the rise. Although an unrealistic scene, it was based on a real event. Napoleon did cross the Alps on his campaign, though he was led on a mule and behind his army. But the portrait wasn't painted to be realistic, or an accurate likeness, Napoleon refused even to sit for it. This was an image painted to swell the perceived importance of the 'heroic' leader. Of course it's just old-fashioned propaganda.
It was a revolution that caused the destruction of the French aristocracy, which tipped Napoleon's fairly humble life into such great success, and it was his ultimate belief that he could not fail that helped bring his world crashing down. Such extreme highs and such great falls in one life.
I think about how the fortunes of the 'hero' in this picture had turned around completely within just a few years. The 'hero' we know died imprisoned in exile. So I tried to make a version of David's painting that reversed the original meaning. My image isn't a rearing horse with the rider boldly striking a hand into the air. It's a horse and rider crashing into the ground after falling but revolved 90 degrees.
In life everything is constantly changing for everyone. In this case it's only a perceived reality, like in the original painting, but this time in favour of the underdog.
THANKS
I felt honoured to be asked to guest edit this special art edition. I did feel the pressure of having to deliver, and the worry of failing. When I agreed to it I didn't know if I would be able to get people on board. I worried about asking for help, I put off making the calls. When I finally did, I was very quickly reminded of just how much support and goodwill there is towards The Big Issue. The sheer weight of people willing to help, to give and to support, has been overwhelming, which has made this special a true collaboration.
I was very quickly reminded of just how much support and goodwill there is towards The Big Issue
It's a one-off for me but The Big Issue is trying to get people on board every day. I feel the task ahead for anyone trying to change the way society might function sometimes seems impossible. But if enough people do get on board they might succeed. Maybe that's all that's needed; eventually the sheer weight of people, attitudes and all these small actions might eventually be enough to tip the balance. I'm an optimist.
DID YOU KNOW…
Since 1991 The Big Issue has sold more than 200,000,000 copies – helping the most vulnerable in society earn more than £115 million.
Crucial times for us are just as much about when we're tipped into success, as when we're tipped out. Small differences can ultimately make the one big difference. And for me that's what The Big Issue is about.
A huge thank you to The Big Issue for their tireless work, and to everyone who contributed to this edition, we really couldn't have done it without you all.
Charming Baker