Energy prices in the UK have soared thanks to a big rise in the price cap for domestic customers set by regulator Ofgem. This follows a smaller increase in the price cap in October 2021.
The NGO National Energy Action estimates that 16 per cent of UK homes were already in fuel poverty, and with the price cap rise this will jump to a whopping 24 per cent – almost a quarter of all households unable to adequately heat their homes. That's 6.5 million households, staggering for a developed country.
The reason for the rise is quite simple: gas is almost four times more expensive than this time last year. The UK is a net importer, and delivery from suppliers such as Norway, Qatar and Russia is significantly more expensive due to a global demand increase over the past year. The gas market is further impacted by European efforts to move away from Russian supplies following the invasion of Ukraine. These issues affect the price of natural gas used for both heating and electricity, since natural gas is also used to generate about a third of Britain's electricity.
What contributes to the cost of energy?
The price of energy is made up of several different things. The biggest chunk is the wholesale cost of electricity and gas which your supplier will buy through markets from the companies who own the power plants, or from gas importers. Then there are the costs to run the national and local electricity and gas networks, VAT, the cost of technologies such as smart meters, policy costs for things like energy efficiency schemes, and the profits made by energy companies.
As you can see in the figure below from Ofgem, a typical household paying by direct debit will see a bill increase from £1,277 to £1,971. Most of that increase is down to the price of gas, which has doubled the wholesale price of energy in the bill, from around £500-worth of the previous bill, to more than £1,000.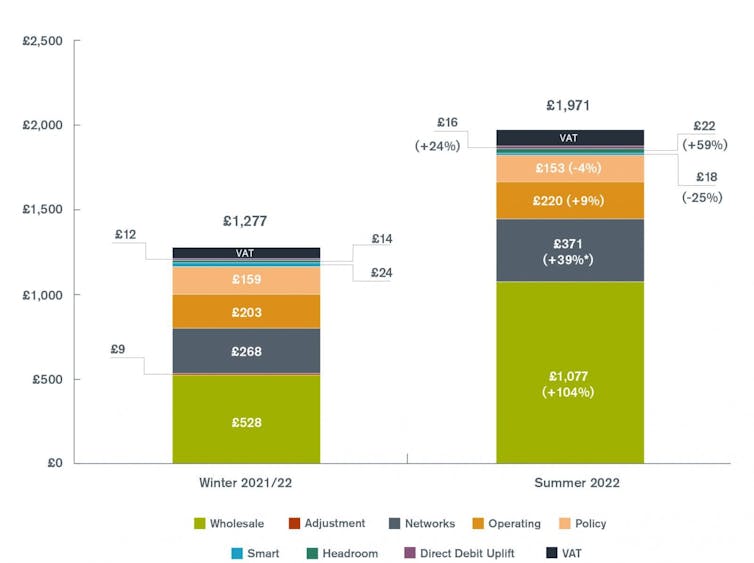 Networks are the next biggest cost, making up around £371 of the new cap – an increase of 39 per cent. Part of the increase in network cost is because many smaller energy suppliers have gone bust recently, and when a supplier goes bust, other companies are asked to take on their customers. The suppliers who do this are known as the "supplier of last resort". Because they may have costs which can't be recovered when they take on new customers, the cost is spread over everyone's bills.