Environment Secretary Thérèse Coffey's recent suggestion that Britons should turn to turnips following tomato shortages did not go down as she might have hoped.
In trying to revive interest in local produce, Coffey could not have chosen a less glamorous root vegetable. But why do we now look down on the faithful turnip – was it always so unloved?
It's not clear when turnips were first eaten in Britain, but they didn't always have a bad reputation. The Old English word neep – a name now only seen in Scotland alongside tatties and haggis – goes back to at least the 10th century, but turnip ("turn-neep") is only about 500 years old.
Historically, the word "turnip" didn't only refer to the round purple root, but root vegetables of various shapes, colours and sizes. 16th century botanist John Gerard was particularly keen on "small turneps", which he said were much sweeter than the large kind and grown in a village called Hackney outside London.
Around the same time, physician Thomas Moffett was eager to write about the blood red turnips he had eaten in Prague, which were so "delicate" that the emperor himself grew them.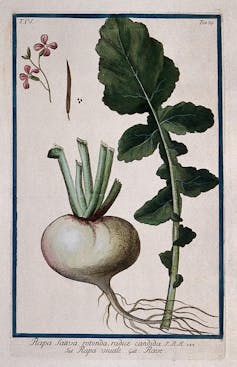 Importing new kinds of fruit and vegetables from Europe was all the rage with the early modern rich, who loved to show off their connections and turnips were no exception. Writers of the time weren't much interested in where their "ordinary" or "garden" turnips came from, but they were still happy to eat them.